We are
Your Integrated Solution
Partner For Industry 4.0!
Our core competency: the synergy of our manufacturing /industrial experience, and coordination of our tech/mfg partners here in Taiwan to satisfy your system spec needs and timelines. Our native Western mindset towards clear communication and problem-solving is in our DNA. We help you with complete systems or the components you need from Taiwan to fill in the blanks in your project spec. OEM/ODM options all available.

Welding Cell Machinery,  Laser welding, Laser micro-machining, etc.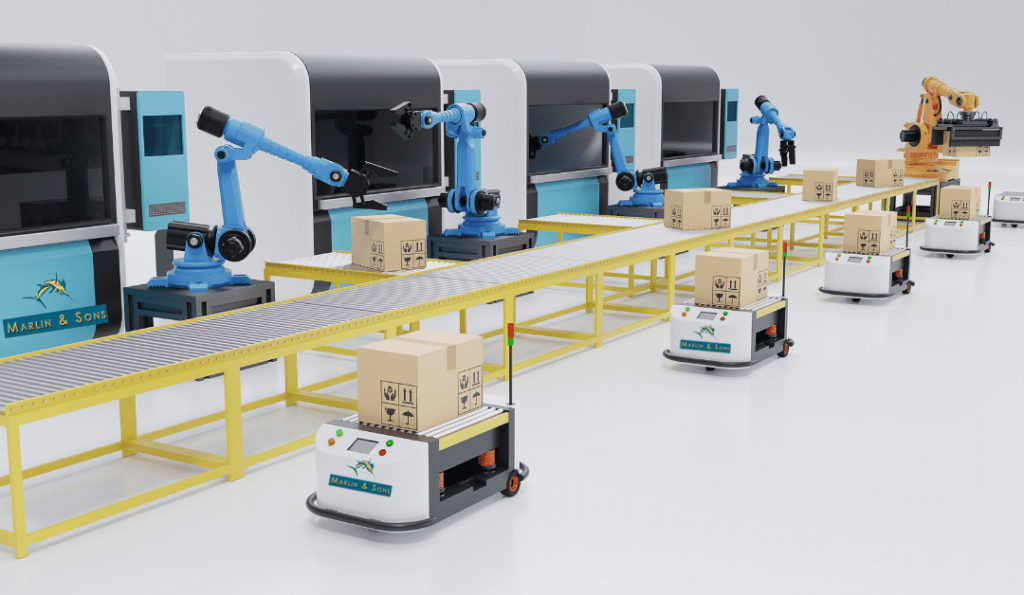 Packing/Palletizing Systems
Packaging Machine, Palletizer, Depalletizer, Divider, Weight Inspection, Loader, Unloader, Pick/Place Case Packer, Robotic Palletizer Line
Linear, Delta, SCARA/Industrial/Cobots, AMR/AGV, auxiliary equipment, EOAT, linear actuators, linear guides, ball screws, etc.
AMR/AGV, Automated Pallet Jack, Advanced Pallet Truck + EPS, Powered Pallet Stacker, Pallet Racks, Picking Rack Frames, etc.
CNC/Injection Machine Tending Systems, Take Out Robot for picking molded parts, sprue, runner, conveyors, plastic grinders,etc.

We Specialize in
Engineered Products
and Equipment!
Marlin has been in manufacturing/new product develop/production for over 20 years in Taiwan and Asia. Beginning with carbon/composite fiber production, metal processing, plastic injection (tools and production). Precision metal: machining (CNC,stamped, forged die cast, investment cast) metal forms, composite fiber forms,  Smart system/ IoT devices. Automated Production Machinery/Robotic Machinery. These  are all part of our Industry 4.0 resource base and product/service menu!

© 2021 All Rights Reserved.