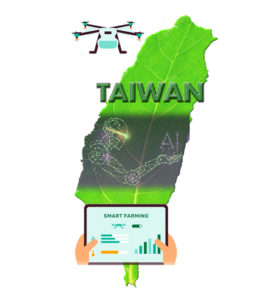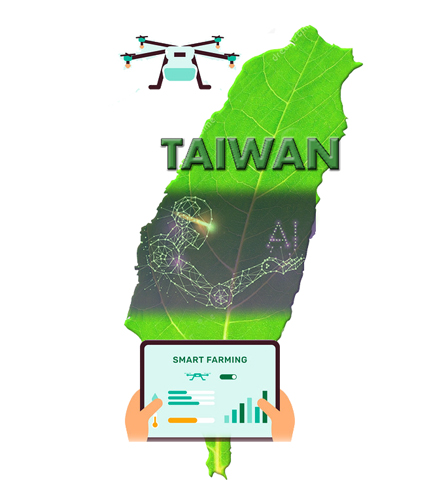 Taiwan is a diverse and complex sub-tropical agricultural system with Alpine mountain climates at its center. It's small farms are ideal for growing crops like: mangoes, bananas, garlic, tea, etc.
Taiwan's terrain and climate are anything but ideal for agriculture. Every year monsoon flooding and typhoon winds wreak havoc on plantations causing vegetable/fruit prices to spike as a result. The climate isn't just fertile for plants, it also attracts a lot of insect pests and harmful fungi, which means that vegetables often end up in supermarkets with significant amounts of pesticide residue on them.

So it was under these adverse conditions that our engineers developed and stringently tested the IoT Secure AgriTalk systems to make sure they were ready for anything in the fields and greenhouses!

Now, the future of Taiwan and world agriculture look very promising! In the coming decades, in order to feed a growing world-population, deal with climate change and achieve GMO resistance, agriculture will have to change a lot!

The days of tilling the soil and relying on armies of migrant fruit pickers are over; agriculture is increasingly becoming a lot more like manufacturing. No country in the world is better equipped for this change than Taiwan!

The AgriTalk R&D team met these environmental challenges and designed AgriTalk Smart Farming technology so that growers all over the world could be equally successful.

We are confident from our experience from serving many satisfied Taiwan farmers/growers (we too use our equipment every day maintaining our own crop production) that we can provide the products and service you need for your Smart Farm success; regardless of crop type or farm/greenhouse/VFarm,hydroponic configuration! Let's talk today!

📲

Our Commercial Greenhouse/Farm Systems

🚜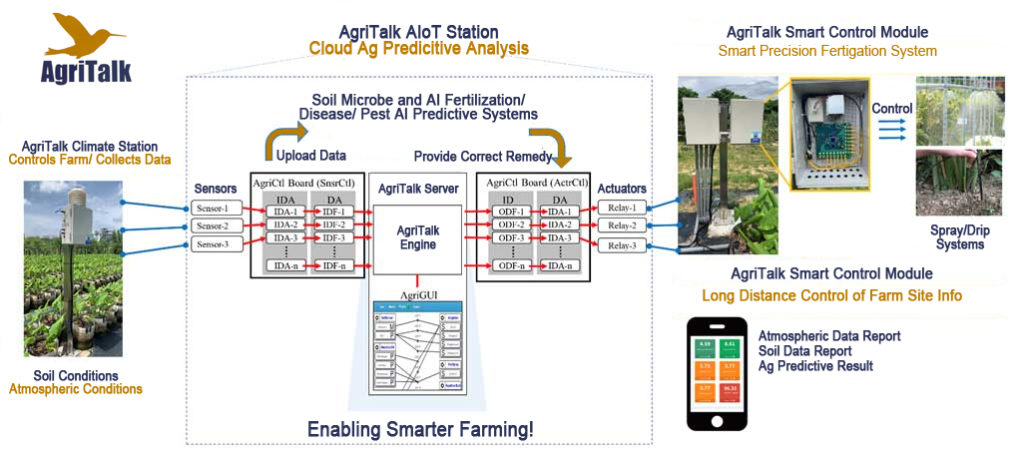 🔎

For Farms and Farm Equip Suppliers

🔍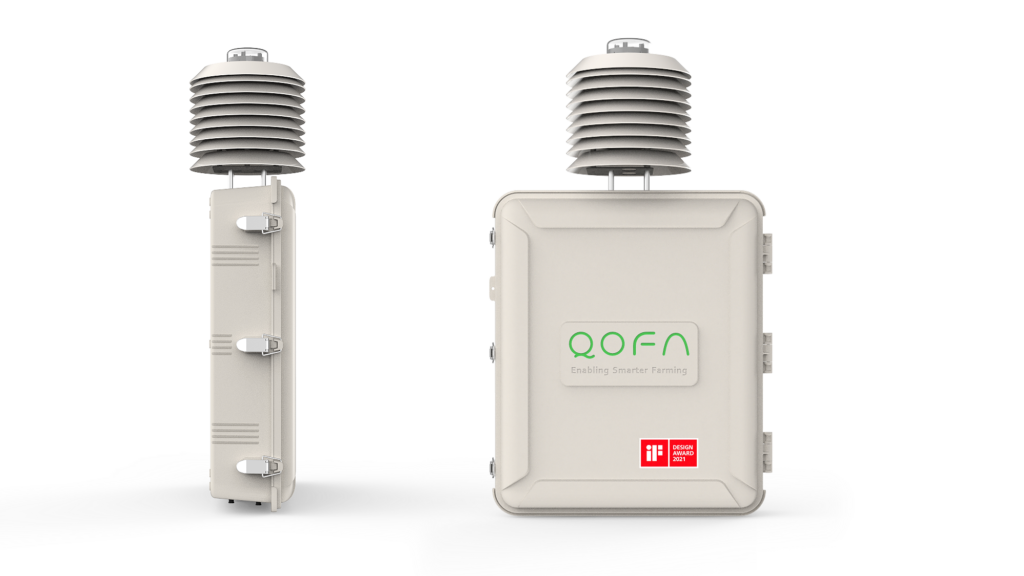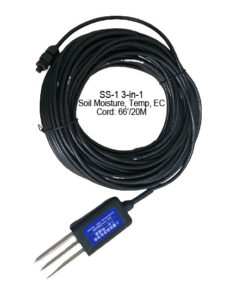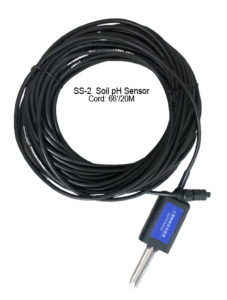 It is vital that a control center (M3,M6,M6L) operates with precision and efficiency. It ensures that your greenhouse equipment is integrated and allows for friction-less systems communication. Sensors mounted throughout the facility will relay feedback on a variety of measurements such as temperature,humidity, soil pH, etc. so the environmental controller can operate the corresponding equipment at needed levels.
💚 For Greenhouses: GH1: 1 M2 and 1 M3. It covers 9,687 Sq' / 900 SqM
⛅ For Open Fields: 1 M6 or 1M6 Lite covers 19,374 Sq' / 1,800 SqM
🌄 For larger farms/grow sites we can network the system per your area/grow requirements! 🌄


Can add 1 M4 for additional soil sensing coverage
up to an additional 9,687 Sq' / 900 SqM but not as fully as the M2.
🏝 M2 is a Climate Station. M6/ M6 Lite are Climate Station core and Environmental Control Center combined. M6 has 16 relays for auxiliary equipment and M6 Lite 5 relays. Each contains the following 11 sensors:
Above Ground

1.Temperature 2. Humidity 3. Atmospheric Pressure  Light Intensity 5. CO2 6. UV Light 7. IR Light

Ground
1 Set SS1:1. Soil Moisture 2.Soil Temperature 3. Soil EC and 1 SS2 pH soil sensor.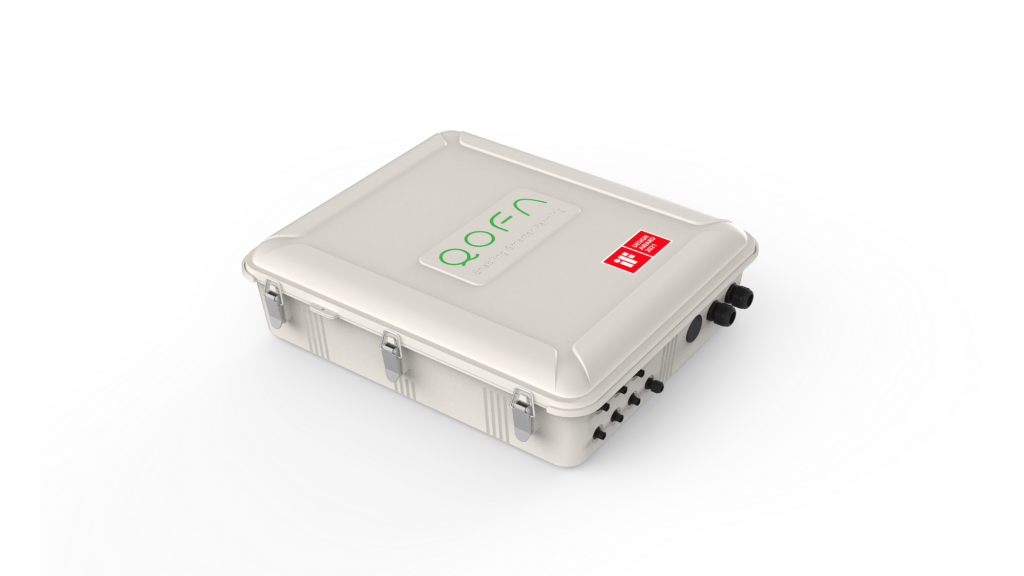 ⛰ M4: Soil Condition Sensing Station
3 Sets: SS1:1. Soil Moisture 2.Soil Temperature 3. Soil EC and 1 SS2 pH soil sensor. M4 should be added onto M6 system for additional soil sensing coverage. Depending on the size of farm different numbers of M6/M6L and M4 are needed.  M4 can cover up to an additional 9,687 Sq' / 900 SqM but not as fully as the M2.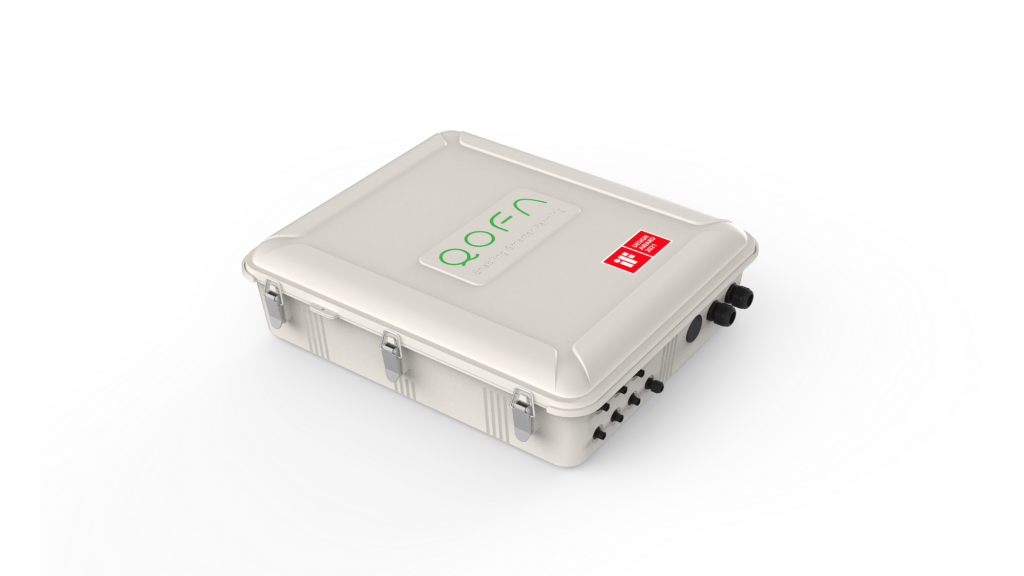 💻 M3 is our platform's Control Center. It manages the  data flow from M2 station into the 3P: Predictive, Preventive and Precise AI and IoT software.The M3 controller then decides what devices,i.e., lights, fans,etc. need to be switched on and the M2 will sense and determine when the precise targeted result is achieved, i.e., target temperature; which will then inform the M3 controller to switch the connected device off. The AIoT platform allows for the prediction of needed fertilizing and pest and disease activity. It  contains 16 relays for switching ancillary equipment, e.g., lights, fans, pumps,sprayers,etc.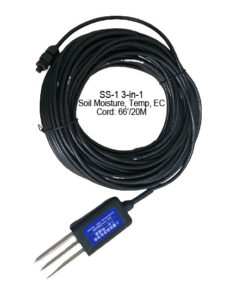 We offer the following optional Quanta sensors-made in Taiwan
SS1-3-in1 Soil Sensor: Moisture, Temp, EC

SS2-Soil pH

SS3-Wind Speed

SS4-Wind Direction

SS5-Rain Volume

Our patented (3), award winning (iF DESIGN Award and CES Show Award) systems are customizable. All of our sensors are manufactured uniquely for us by Quanta Computer under strict ISO standards. Grow area crop type have bearing on the equipment necessary. Auxiliary equipment like LED systems, additional sensors,etc. for your farming/farming business projects are available.

We can do OEM or ODM projects as needed! Installation service is available .

Please share your questions and ideas with us so we can come up with the best solutions for you.

Click image to go to page
Farm Field Tech/AG 3.0/4.0
M2 Climate Sensor/IoT System Security
M3 Control Module/Remote Monitoring Dashboard
Video Intro at AgriTalk Research/ Super C™ Turmeric Farm