How Robot Monitoring Can Help Reduce Downtimes in Manufacturing
Downtimes in manufacturing, whether unplanned or ineffectively planned, can wreak havoc on a business' productivity, operational and capital costs, revenues, and customer satisfaction. When a line is down, the challenges and stress associated with troubleshooting the issue, developing a solution, and then implementing takes time—time that costs a company big money. Industry experts estimate that a downtime in production can cost anywhere from $1000/minute and all the way up to $10,000/minute.
The challenges and costs associated with manufacturing downtimes can be exacerbated by implementing automation as businesses transition to Industry 4.0. While robots and cobots are hailed as a panacea for production teams that face skyrocketing demand, supply chain cogs, and a crippling labor shortage, they can nevertheless complexify processes to mitigate downtimes in production as well as restarting equipment and systems.
Let's take a look at the realm of manufacturing downtimes in robotic workflows and how companies can reduce the likelihood of them occurring thanks to new technologies, like remote robot and cobot recovery solutions. 
What Are the Different Types of Production Downtimes?
Production downtime is defined as any period of time whereby a piece of equipment, a specific line, or an entire factory stops operating and no/limited output occurs. There are two broad categories of manufacturing downtimes: planned/scheduled downtimes and unplanned production downtimes.
Planned and scheduled production downtimes
Planned production downtime, also known as planned maintenance, often starts with a problem with a piece of equipment, like a robot or cobot, and includes the materials, tasks, tools, and processes to resolve the problem. Scheduled equipment downtime is the actual assignment of who will do the work, the date when the work will begin, and the timeframe for the overall maintenance and repairs.
Preventative maintenance in manufacturing is based on historical data and best practices to ward off any equipment failures and downtimes. Preventative maintenance occurs on the same schedule every maintenance cycle.
Predictive maintenance occurs on demand; in other words, companies monitor their equipment's overall state of health using real-time data collection to identify nascent issues and take care of them before production has to be interrupted.
Other situations of planned production downtimes are when manufacturing teams upgrade equipment, train workers on a new machine, or even test times to optimize performance levels.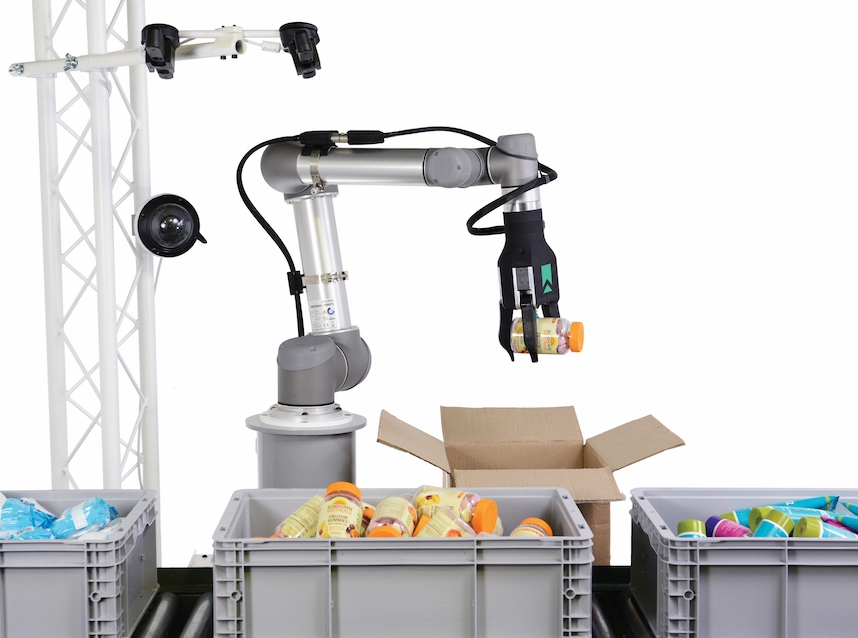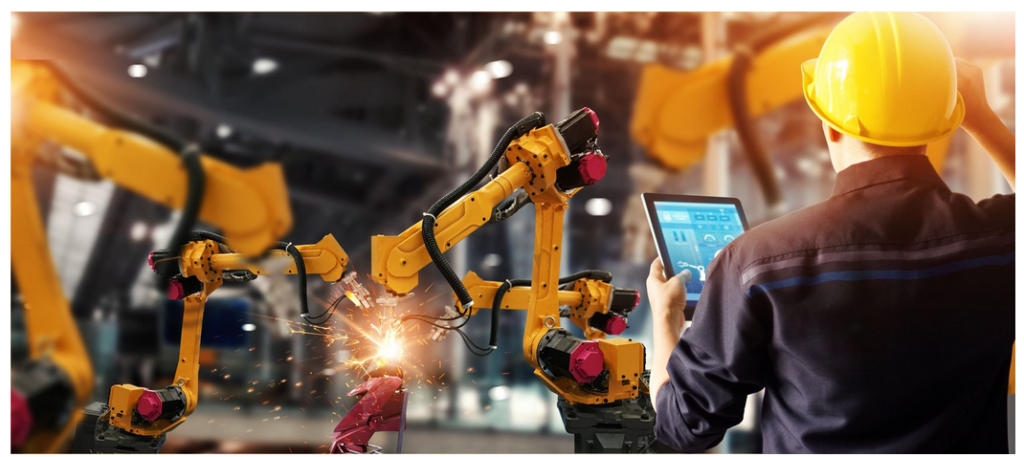 Unplanned production downtimes
What Causes Manufacturing Downtime with Robots?
Downtimes in production can be caused by a myriad of factors. Many manufacturing downtimes can be prevented, while others cannot.
Asset failures
Unplanned equipment downtimes are often caused by machine malfunctions, such as machine jams, part failures, mechanical overloads, and improper maintenance. 
Supply chain problems
As today's manufacturers can attest, supply chain resiliency—or a lack thereof—can make or break a factory's throughput. Supply chain interruption, ineffective and inefficient supply chain management, poor inventory levels, and unexpected changes in demand can generate equipment stoppages and downtimes of entire production lines. 
In addition to human error, staffing problems can be a source of manufacturing downtimes, such as a labor shortage, operator health/family issues causing leaves of absence, sick days, workplace accidents, and insufficient training leading to inappropriate equipment operation.
Unexpected events
Downtimes in production can occur when a plant undergoes a cyberattack, natural catastrophe (flooding, earthquakes, hurricanes, etc.), fires, power outages, storms, and more.
Examples of manufacturing downtimes in robotic lines
As mentioned before, robot and cobot setups in a manufacturing environment can add a level of complexity when it comes to finding ways to reduce downtimes in production. Even the best-automated robot and cobot systems with the savviest operators will experience downtimes during their life cycles. These are some of the typical occurrences.
Mechanical drift

Accidental displacement

Misaligned parts 

Worn joints

Computer vision not being able to locate parts 

Parts slipping of the tooling due to wear

Incoming parts that are out of spec 
How do unplanned robot downtimes affect manufacturers?
Manufacturing downtimes with robots are to be expected when automating production lines. It is recommended that manufacturers work with their system integrators to establish contingency plans and ensure regular preventative maintenance. Furthermore, companies and integrators should determine a protocol whereby the integration partner has a remote robot recovery solution for on-demand troubleshooting that does not require experts to travel to the customer site.
Plants with inadequate preventative maintenance processes, run-to-fail programs, or no ongoing training to ensure proper setups for each production project will experience more unplanned robot downtimes. 
Unplanned downtimes cause plenty of negative impacts on a business—some of which can actually put a company out of business. Here is a lowdown of the many effects of an unplanned production shutdown. 
Downtimes in production can be excessively expensive. The following statistics show just how expensive a manufacturing downtime can be:
Manufacturers have to bear other costs, including direct labor for repairs and startups, worker overtime, the need for outside contractors, wasted materials, depleted inventory, and idled operators and other equipment. The latter also generates other recovery costs and longer-term capital expenses, like depreciation and cost of facilities capital. 
Production downtimes inescapably mean decreased capacity and longer lead times, which in turn may mean penalties are issued to the manufacturer because SLAs are not met. Customer and partner satisfaction decreases, which leads to canceled contracts and competitors picking up the business left behind by a company that experiences too many downtimes for clients to tolerate. Tighter profit margins and lost revenues are bound to ensue. Repeated downtimes mean a company will need to focus on fixing equipment and solving problems rather than innovating and providing great service.
Staff safety
If a manufacturing downtime occurred because of an accident and some employees were injured, it will also cause a spike in WHS compensations and insurance premiums. During an unplanned production shutdown, workers may end up being more stressed and pay less attention to safety hazards.
Loss of data and data breaches 
Production lines that feature IoT sensors to capture data can experience a loss of critical data if a piece of connected equipment stops due to damage. Moreover, if a cybercriminal breaches the company's security and accesses equipment, data can be tampered, altered and even stolen. Cyberattacks can purposefully stop the equipment from running altogether or change the configuration so as to compromise product quality and worker safety. There are so many hidden costs of a cyberattack that manufacturers must work with IT experts in cybersecurity to protect their businesses and successfully navigate an ever-changing landscape of threats.
How Is Robotic Manufacturing Downtime Calculated?
Before figuring out the costs of production downtime, you must first understand how downtimes are measured. Tracking machine downtimes can be done via data capturing if a manufacturing plant uses equipment sensors, for example, or manually by operators.
For a quick estimate to measure downtimes, here is a handy formula that can be used for either a specific asset or an entire production line: 
Time equipment is down/Planned operating time * 100 = Downtime %

The total cost of downtime in manufacturing can differ, depending upon the industry as well as each company's unique service offering, size, production environment, and processes. There are also a variety of ways to calculate manufacturing downtime costs.
Here are some tips from manufacturing experts:
How Can Robotic Manufacturing Downtimes Be Reduced?
Reducing downtimes requires a clear and holistic strategy that is consistently executed. To get machine downtimes under control, these initiatives will help:
Conduct production audits 
Regularly carry out audits on your equipment and production processes. What equipment needs to be checked? Have operators reported faulty equipment that hasn't been repaired yet? Are workers using the equipment as instructed? These are just some of the questions that should be answered during a production audit. 
Upgrade your assets
When running production lines, it can be easy to forget that equipment and software won't last forever. Obsolete equipment often has less-than-ideal performance levels and are subject to more failures. Investing in new technologies and solutions is indeed a capital expenditure; however, it is important to weigh the costs between new equipment and unmanageable downtimes and unplanned maintenance costs.
Regularly carry out preventive and predictive maintenance
Extend the lifespan of equipment through planned downtimes. Manufacturing pundits all agree that preventive and predictive maintenance processes are critical for the prevention of unplanned downtimes; in fact, the right programs can reduce unexpected failure by 90%. According to PwC, predictive maintenance 4.0 (PdM 4.0) has proven to help manufacturers increase their uptimes by as much as 9%.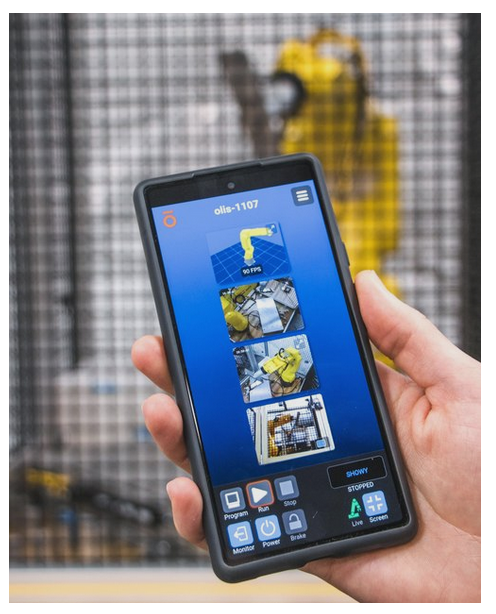 Invest in remote error recovery software ​
Keep your IT security up-to-date
Do not underestimate the importance of protecting your equipment and entire IT infrastructure from cyberattacks. Partner with knowledgeable cybersecurity experts, give cyber awareness training to all staff members, and invest in cybersecurity solutions that keep up with current cyber threats, like ransomware, malware, DDoS, and phishing attacks.
Consistently train employees
To maximize the use of your equipment and ensure downtime reduction, put together regular training sessions so that employees can acquire or fine-tune their technical expertise on each machine, robot, and cobot. Training operators to better use the equipment on a day-to-day basis will be easier on your budget than constantly hiring contractors to take care of downtimes. 
Develop contingency plans
Reduce costly downtimes by having your production and maintenance teams put together comprehensive contingency plans that are set into motion if an unforeseen event occurs. These plans should cover all factors that could impact a business' uptime, such as machine failure, cyberattacks, power outages, fires, floods, etc. Assign key personnel to oversee specific initiatives to get production back on track, too.
Key Takeaways
In sum, while manufacturing downtimes do occur—and cause both operational headaches and inadvertent costs, many can be reduced thanks to proactive planning, better maintenance, consistent training, and investments in modern technologies. Gaining a better understanding of what causes downtimes in production means getting a better handle on preventing them in the first place.
© 2023 All Rights Reserved