A range of specialized laser cleaning machines. All with state of the art software which can be customized/machine design can be customized to your spec. All quality made in Taiwan- incorporates German fiber laser module .
Marlin can integrate machines with robots for production, material handling and machine tending equipment to achieve the level of automation required.

Perfect Compliment for Wet/Dry Blasting, Dry Ice, Chemical Treatments Equipment Vendors!
Add New Markets/Hi-Tech Option. No Consumables, No Contamination and FAST!
Oxide removal
Mold release cleaning
Shipbuilding industry and Marine Corrosion removal
Decontamination
Cleaning
Sewage treatment
Rust removal
Air craft paint removal

Coating and paint stripping
Degreasing
Parts pre-coating
Pre-welding treatment operation
Zinc coating removal

Automotive parts manufacturing
Food processing equipment
Tire Mold Cleaning
Gas and oil industries
Welding treatment
Aluminum and other alloys
Automotive industry/ shipbuilding/ sheet metal processing

Precision components / semi-conductor/ metal equipment, dies and molds
Automotive drive shafts/ Valve manufacture/ Metal industry
Laser cleaning is the process of removing oxide, coating, contaminated, dust, etc. layers from metal surfaces by laser irradiation. Compared with traditional cleaning methods (i.e. chemicals, sandblasting(wet and dry), dry ice and supersonic cleaning, etc.), the laser cleaning machine is an extremely gentle, fast, and eco-friendly cleaning method requiring no consumables.
Model
100W
Laser type
Fiber laser
Scanning width
0.03-3.93″/ 1mm~100mm
Fiber optic connection cable length
9.85′ /3m (standard)
Power supply
110V-220V
Handheld unit W/D/H
23 x 4.96 x 5.31″
586 x 126 x 135mm
System trolley
28.7 x 17.7 x 37.8″
730 x 450 x 960mm
Handheld unit weight
6.16 lbs./ 2.8 kg
System trolley weight
191.4 lbs./ 87 kg
Light weight handheld design provides mobility for users and makes it easier to clean difficult angles and complex shaped workpieces.
Our products use German fiber lasers modules. The gun applicator includes the  latest laser safety sensor, which  shut down the laser instantly once the sensor has detected any object passing in front of it's range.
MS3101 provides users with  16 multiple parameter settings for different workpieces、angles and other requirements. The operator can switch quickly to specific modes via the control knob . Additional modes can be programmed if needed.

Can be integrated into Industrial Robot Cleaning Cell!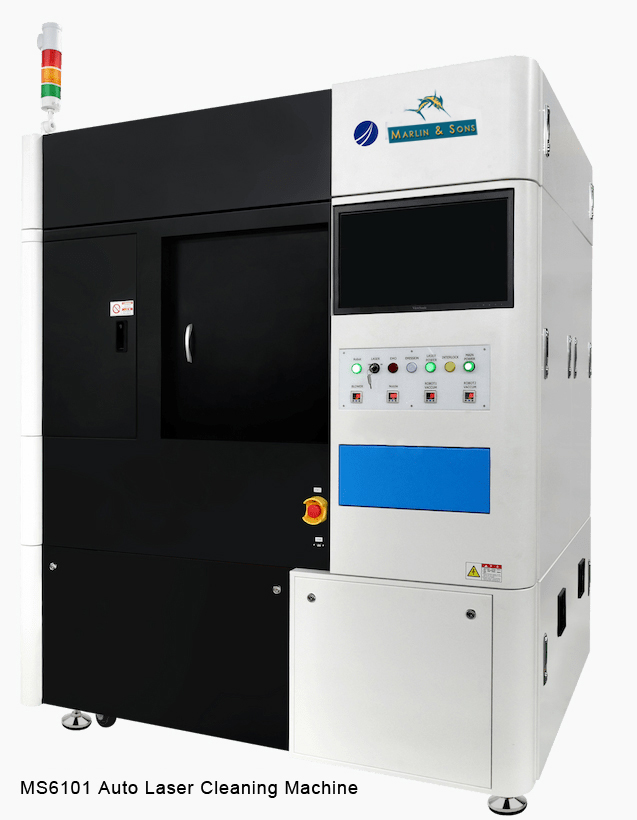 Parameters are adjustable via the multiple setting function, cleaning angles,  widths and parameters are adjustable for each area of each workpiece.
MS6101 has a rotating table which allows the automatic cleaning of workpieces of up to 45lb./20 kg. For workpieces with rust-proof oil we offer an accumulator tray.
With our exclusive software, it is easy to operate and switch specific parameters for different regular production workpieces. Multiple parameter settings are available.

| | |
| --- | --- |
| Model | 100w |
| Laser type | Fiber laser |
| Scanning width | 0.03-3.93″/ 1mm~100mm |
| Power supply | 220V |
| X Axis Max. Travel Stroke | 13″/ 330mm |
| Z Axis Max. Travel Stroke | 28.7/ 730 mm |
| θ Axis Rotation range | 77.5° |