For Shoes/Insoles
For Shoe Footbeds (midsole cushion)/ Sockliners/Insoles-Sports/ Hiking/ Work and Medical,

High Heel Pads, High Heel Inserts, Women's Heel Grips/Forefoot Cushions,Insulation Foam, Tongue and Collar Foam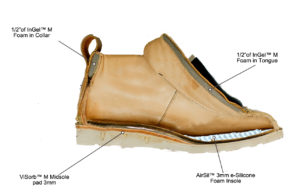 High-cushion/hi-flex AirSil™ Stretch e-Silicone makes the best insole/sockliner and peel and stick heel/ foot pad! Cushion/flex support is long lasting-doesn't bottom out like other materials-micro-air bubbles inside.

Feels like brand new for a long time!

Temperature range:

-30°

to

210°C.

Can be customized with own texture pattern/logo. Anti-microbial. Cooler, drier and odor free when compared with PU/PU foam, TPR, TPU or EVA!


AirSil™ can be die-cut and bonded to flat sockliner made from EVA or PU, or thermo-formed 3D sockliner to provide enhanced comfort/cool wear at more economic price. AirSil™ heel cup pad/ball of foot pads (Peel and stick) can be texturized and printed as needed. Heel or forefoot components can also be bonded directly to the footbed of athletic sandals.

 

 
Less Bounce to the Ounce!
ViSorb™ M Medium/High impact absorption.

ViSorb™

H High  vibration damping/shock absorbing heel pad removes shock from heel offering the best comfort and protection.

Mid-Sole, sockliner, ball or heel pad,upper.

Easy bonding.




 

ViSorb™ lightweight in sheets and rolls. Black or natural color.



| | |
| --- | --- |
| InGel™ H & InGel™ M cushion/flex foam. For heel pad/metatarsal pad comfort and protection. Die-cut component of the insole or plug for mid-sole. InGel™ H & M also good for collar and tongue foam. InGel™ M also offers good for upper liner with insulation properties. Custom shapes and dimensions available. | |