DIY/Consumer
AirSil™ GripSkin Pads
Superior safety & grip comfort for fingers and hands over current silicone pads or grip tapes in the marketplace which are too thin ( between 1/70″ – 1/50″) , stiffer and tear easily. AirSil™ e-Silicone Foam Rubber GripSkin Pads don't absorb hand heat-so stay cooler and drier and offer shock absorption. They come in  thickness (1/16″ ) with peel and stick tape backing. Our special material is thicker, textured, and ergonomic letting your fingers and hands grip hard slippery surfaces better and more comfortably. Peel and Stick on : smart phones, PDAs, hand tools, kitchenware, luggage, computer game controllers, bathroom safety: hand rails, door knobs/handles, music equipment stands, etc. Deep textured antimicrobial surface let's you get a comfortable safe grip for electronic devices, and safe comfortable grip with hardware items. Just peel it off and stick it on! Strong adhesive can be removed without sticking to your device!

Can offer these pad sizes below in multiples or combination packs of 1 or more sizes. Other shapes and sizes can be done too.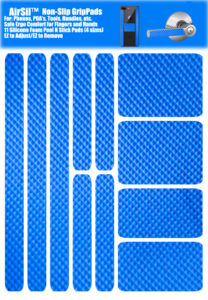 4 x 4-3/4″ Custom sizes, textures and colors available.