Active Grips/Bar Tape
☀️ ☁️ ☂️ ❄️
AirSil™ New Game Changing Material

☀️ ☁️ ☂️ ❄️
AirSil™ silicone foam's human skin-like feel and comfort (softer and drier) against the skin is superior to that of ordinary silicone materials (lighter, better stretch, more ergonomic). Grips best against skin (moist skin even better) !

AirSil™ has a low specific density of 0.5-0.6 due to our foamed composition ( compared to 1.0-1.2 for regular silicone material)  with excellent stretch and strength-high rebound exceeds rubber and elastic in wear life.

Our material is hypoallergenic (no latex), waterproof, doesn't absorb odors, doesn't react to heat or cold (not sticky when hot/not brittle when cold) and is washable.

AirSil™ silicone materials: tapes/strips, and tubes. Material stretch/softness can be adjusted for your product needs. We can do custom shapes and sizes, and textures  to meet your product engineering design needs. Also suitable for paddles and windsurf booms. SilPrene grips offer that nice silicone dry skin-like feel and provide enhanced vibration damping over standard material due to our M.A.D. Micro Air Damping system . parts are also lighter due to foamed core.
SilPrene Ergo Grips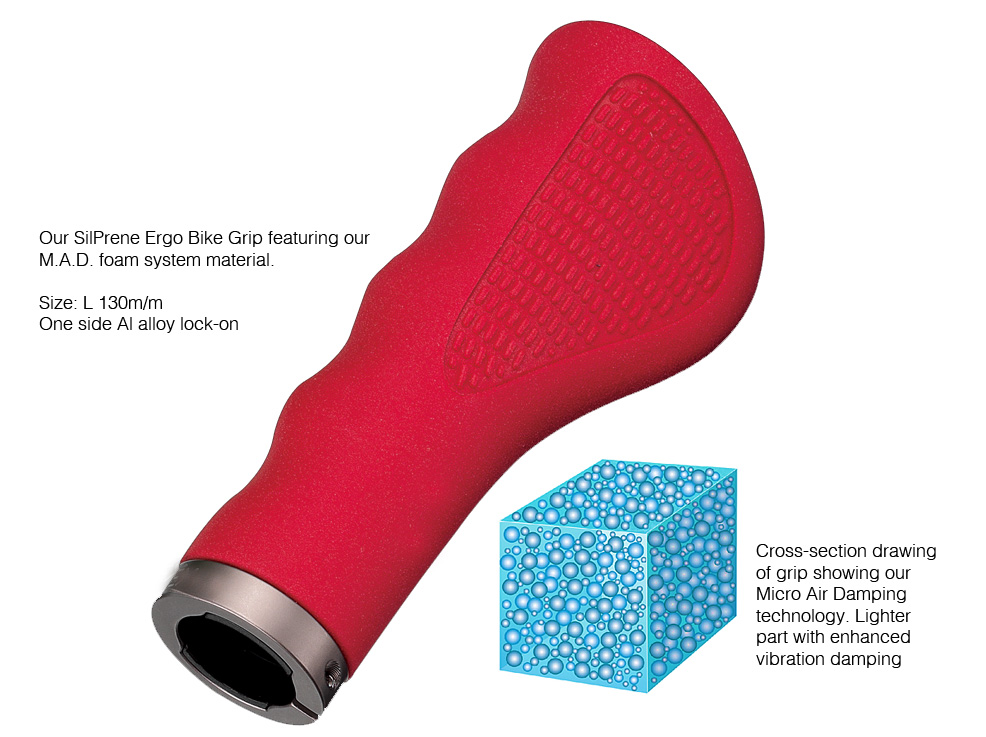 SilPrene with Cork
Size:130mm Al Alloy 1 side Lock on style
Active MTB Grips
Each pair comes with 2 bar plugs
| | |
| --- | --- |
| 30/32/34mm Black | 30/32/34mm White |
| 30/32/34mm Blue | 30/32/34mm Gray |
| 30/32/34mm Hi Vis Green | 30/32/34mm Pink |
| 30/32/34mm Red | 30/32/34mm Hi Vis Orange |
|  30/32/34mm Hi Vis Yellow | Ripple(L)/ Hex(R) 32mm |
Active Road Bike Bar Tape
2 rolls x 6′, 2 adjustment strips,2 bar plugs
Standard Colors
Black
White
Hi Vis Green
Hi Vis Yellow
Hi Vis Orange
Pink
Blue
Red
Gray
TC Brown
All textures available in these and custom colors.
Diamond texture 25/30 mm 
Diagonal texture 25/30 mm 
Coral texture 25/30 mm 
Iguana texture 25/30 mm