Introduction
We produce specialized equipment and products:precision components, molded components and injection molds. We have a wide range of technical/engineered product experience: medical/dental, sporting goods, bicycles, air/pneumatic tools, hand tools, special materials, etc. We can develop and produce these and other products for you. Since 1993. Taiwan-made quality and value.
Taiwan is an ideal source for producing these components, products and production tools-reliable, democratic country with long stable trade history with US, Europe, etc. Taiwan not a tarriff problem for US orders and Chinese labor costs keep rising readily so no longer inexpensive. We also have production facility in Vietnam for injection molding/plastic components and products.
We look forward to hearing from you today for quotation on your next project! Just click here for e-mail.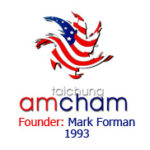 American Chamber of Commerce in Taichung